The Jailhouse Grill is a 120 seat restaurant. The easiest way of describing the layout is to split the restaurant into four. We have two semi-private dining rooms. The smaller of the two rooms "The Cellar" comfortably seats 14 people with 16 being the maximum. "The Function Room" is ideal for larger groups up to 28 people. These rooms are highly sought after and we recommend that you reserve these areas as early as possible.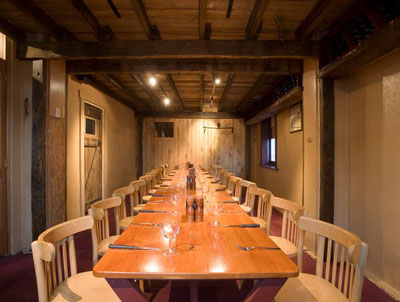 The first main dining area "Bar Side" is made up of tables of 2, 4 and 6. They all form pieces of a "jigsaw puzzle". that allow us to accommodate anything from an intimate table for two right through to larger groups of up to 50 (in certain circumstances).
"Grill Side" is the other main dining area. It derives its name simply by the fact that you are able to view the chefs in action as they cook over the wood fired grill. Once again there are multiple combinations from two to twelve possible. This area also has the option of booth seating of up to four, which adds to the iconic atmosphere that the Jailhouse Grill is famous for.
Optional Set Price menus are offered to group bookings and can be viewed here. One of the reason why the Jailhouse optional set price menus are so popular is the amount of options on offer. Choose from 13 appetisers/starters (including oysters), 14 mains and 5 desserts.
For special occasions, we welcome you to personalise your table with balloons and other decorations.
As the Jailhouse Grill is a restaurant that offers a range of desserts, BYO cakes are not encouraged. In special situations where BYO cakes are pre-arranged there is a cakeage charge of $2.80 per person. Why?
There is an age old theory that restaurants charge this fee to cover the cost of serving and cleaning the cutlery/crockery. This is not the full story.
There is a growing number of restaurants that don't allow customers to bring their own cakes. We understand that there are times where age/occasion cakes are desirable. Here at the Jailhouse Grill as an average, one in three diners finish their evening with a dessert. The small cakeage charge helps to compensate the missed opportunity of selling our delicious desserts to your table.