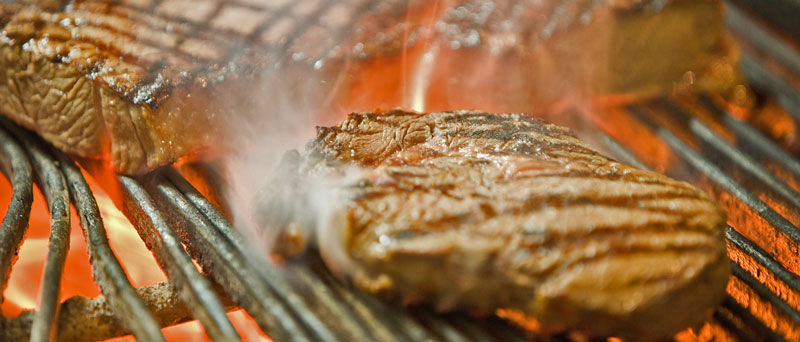 STEAKS & MAIN
Including "help yourself" salad bar & hot vegetables
SELECTIONS AND CUTS
Eye Fillet The most tender cut available, excellent from rare to well done.
Scotch Fillet* A popular cut, a blend of flavour and tenderness, cooks nicely from rare to well done.
Rump* The first choice for flavour and leanness, best cooked from rare to medium.
Porterhouse* A leaner cut with a tighter vertical grain helps to hold in the juices, can be cooked to med/well on the larger cuts.
SMALLER CUTS
Rump 200g…$27.50
Scotch Fillet 200g…$31.50
Eye Fillet 180g…$35.00
MEDIUM CUTS
Porterhouse 300g…$34.50
Scotch Fillet 300g…$38.00
Eye Fillet 280g…$45.50
Carpet Bag 340g
Scotch fillet filled with oysters and scallops, moistened with garlic butter…$47.00
Peppered Steak 300g
Scotch, dusted in kibble pepper (HOT) before grilling w/ pepper sauce…$40.50
Steak Medallions 280g
Thinly sliced eye fillet quickly grilled w/ creamy mushroom sauce…$40.50
Pork Rib-Eye 290g
This is the pork "scotch fillet" on the bone. Infused to retain tenderness – served with a tasty plum sauce…$38.00
LARGER CUTS
New York Cut 450g
Special cut of selected porterhouse…$48.00
Eye Fillet 400g
Cut from the butt end of the tenderloin…$55.50
Rump 650g
A convicts last request…$48.00
SAUCES…$3.90
• Dark Mushroom & Bacon • Creamy Mushroom • Diane • Plum • Pepper • BBQ
Bowl of Chips…$5.00
MAINS
Rump of Lamb 320g
A tender & tasty favourite for the settlers. Cooked medium rare with spicy eggplant chutney…$39
Jail Burger 270g
Worth "doing your time" 100% in-house trimmings with bacon, tomato, lettuce, melted cheese & chips…$27
Big Sitting Duck 650g
Half a duck, barbecued over the charcoal grill w/ our wild plum sauce…$41.50
Zu' Burger
Vegetarian – made here using fresh ingredients. Zucchini, carrot, onion, garlic & lightly seasoned with cumin & fresh coriander. Contains egg, flour & peanuts…$27.50
Jailhouse Eye Fillet Pot Pie
Premium eye fillet strips slow cooked in traditional red wine gravy. Served with Tasmanian tomato relish & chips…$29
BOWL OF CHIPS…$5.00
Steaks served without a sauce are topped with a slice of herb butter
All main courses are served with Roast Potatoes. Chips rather than Roast Potatoes are available for an extra $3.00
Worcestershire Sauce, Hot English Mustard, French Mustard, Mayonnaise & Toothpicks are available on the Salad Bar.
Have you tried the Jailhouse Steak Topping?
A mix of pan fried onions, mushrooms and bacon…$5.90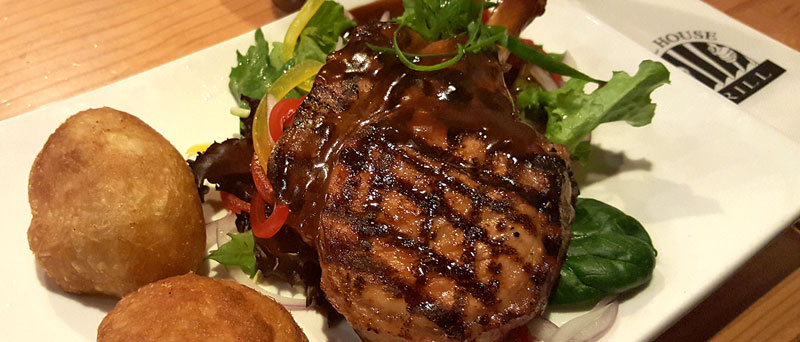 Main Courses
• All cooked over our wood fired charcoal grill
• All mains include "Help Yourself" Salad bar including Hot Vegetables & Hot Pasta
• All Main Courses served with roast potatoes. For CHIPS rather than roast potatoes… add extra $2.50
Caribbean Chicken
Breast fillets slightly spiced and marinated w coconut & mandarin dressing…$17.50 | $33.50
Chicken Natural
Chicken breast fillets charcoal grilled, served on mesclun salad with herb butter…$17.50 | $33.50
Thai Beef Salad
Aged beef strips marinated in Asian spices (mild), soy & curry until dark.
Quickly seared…$16.00 | $31.00
Pork Ribs
Loin ribs on bone infused with our own plum marinade, finished on our grill…$19.50 | $38.50
Scallop & Bacon Kebabs
Skewers of plump peruvian scallops wrapped in bacon w/ a lemon & Dijon sauce…$19.00 | $36.50
The Gamekeeper
A mixed blend of venison, pork, wallaby & berry sausage, coarsely ground served w/ Lesley Black sweet fruit chutney…$18.00 | $32.00
Cajun Tasmanian Salmon
Boneless fillets dusted w/ cajun spices, charcoal grilled and moistened with herb butter…$19.00 | $35.50
Tasmanian Salmon (Cooked Medium)
Boneless fillets charcoal grilled
and served w/ lemon and Dijon mustard cream sauce…$19.00 | $35.50
Small Sitting Duck 180g
Breast and 1/2 wing, barbecued
over the charcoal grill with our
wild plum sauce…$23.50 | $34.50
Rump of Lamb 320g
A tender and tasty favorite for the settlers. Cooked med/rare w spicy egg plant chutney…$39.00
Jail Burger (BLT) 270g
Worth "doing your time" 100% in-house trimmings w/ bacon, lettuce, tomato, melted cheese & chips…$27.00
Big Sitting Duck 650g
Half a Duck, barbecued over the charcoal grill and topped w/ our wild plum sauce…$41.50
Zu' Burger (Vegetarian)
Made here using fresh ingredients. Zucchini, carrot, onion, garlic and lightly seasoned
with cumin and fresh coriander. Contains egg, flour and peanuts…$27.50
Jailhouse Eye Fillet Pot Pie
Premium eye fillet strips, slow-cooked in traditional gravy. Served with Tasmanian tomato relish & chips…$29.00
Salad Bar
Salad as a main…$22.50
Salad Bar
Salad as an accompaniment to an entrée…$10.00